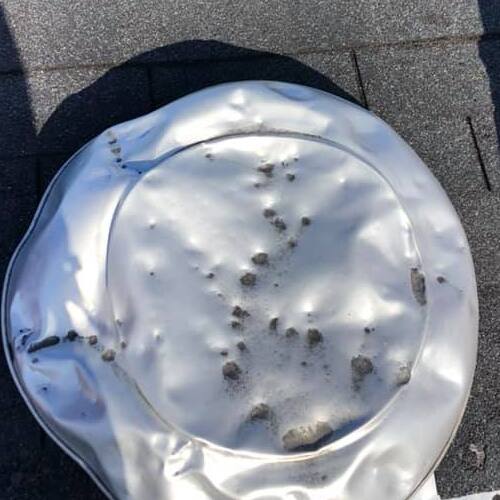 We Can Restore Your Roof After the Storm
Storm damage, particularly hail damage, can cause significant damage to homes and businesses. We've had our fair share of hailstorms in Lexington, KY, and we're no stranger to their impact. When hailstorms hit, it can ruin whatever's in its way. The repair work is oftentimes extensive and can be costly. At A Godsend Roofing LLC, we're proud to say we offer the best hailstorm roof damage repair in the Lexington, KY area. We're a local company, so we've seen the affect bad weather has had on our communities. We've built our business to be able to respond appropriately to restore your property with expert roof hail damage repair. Call 859-432-ROOF (7663) today to schedule an appointment for hail damage roof repair or to ask questions about how we can help!
Rapid Response to Hail Damage
Rapid response to hail damage after a storm is critical to getting your roof back in good shape. Don't make the mistake of leaving your roof too long with missing shingles, holes, or other damage. That would lead to leaks that cause property damage and a higher repair bill down the road. A Godsend Roofing LLC is proud that we can help homeowners receive a rapid response to hail damage with expert technicians with years of experience. Our technicians care deeply about serving our customers with the best roof repairs and advice possible.
If you need emergency roof hail damage repair in Lexington, KY, we can help. We'll help you whether you need minor maintenance or are dealing with serious structural damage. After conducting an initial inspection to assess the extent of hail damage, we'll work with you on a custom solution that works with your budget and in your timeline. Roof hail damage repair shouldn't take forever, and it shouldn't disrupt your daily life. We'll be there from start to finish to make sure your roof is performing again and looking fantastic.
Our Commitment to Quality Roof Hail Damage Repair
As a local business, A Godsend Roofing LLC understands how to best serve property owners of the area. We know what it takes to meet and exceed your expectations. Our commitment to quality and excellent customer service is evident in every call and project we take on. We aim to be your long-term roofing provider, and we know that it takes attention to detail and superior service.
One thing we've done to set ourselves apart from the rest is to invest in our team. Our technicians are seasoned professionals with years of experience. We put a lot of time and resources into training and purchasing the tools and equipment to get the job done best. You can have confidence that our teams will have the latest technology and repair techniques when they come to work on your property after a hailstorm.
Schedule Services Today
Get the help you need after a hailstorm with A Godsend Roofing LLC! Our team is happy to walk you through our services and what makes us the best choice for roof repair, installation, and maintenance. You'll notice the service excellence and our commitment to quality from the first call through to the last bit of work on your roof. Don't wait any longer for roof hail damage repair in Lexington, KY. Call us today at 859-432-ROOF (7663) and ask questions or schedule an appointment. We can make it happen now!