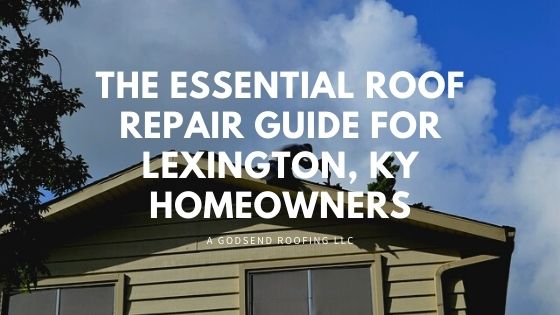 Roof repair can be a troubling affair. Apart from the damage that a roofing leak can do to your home and the expenses that go along with roof repair, there is the pressing matter of which roof repair contractor to choose.
There is a lot to consider and not a lot of time to make decisions. But you shouldn't simply choose the first roof repair contractor you find online. To help you out, we have put together a little guide that outlines the steps you need to take when you require roof repair.
Take Swift Action
Not all roofing problems are emergencies, but that doesn't mean you should put off until tomorrow what you can do today. Just because water isn't pouring into your attic because of a roofing leak right now doesn't mean that it can't happen. Our best advice to Lexington homeowners who suspect that they may have a roofing problem is to call for an inspection. Whether you know there is a problem with your roof or think there is a problem; you shouldn't wait. Get it inspected or repaired as soon as you can to save yourself hundreds or even thousands of dollars in damage repair.
Prepare for Emergency Assistance
Of course, sometimes, roof repair is an emergency. Our best advice is always to have the number of an emergency roofing service saved in your phone for these kinds of situations. As a responsible homeowner, you should have the number of an emergency plumber, electrician, and roofer on-hand at all times. The faster you can take care of an emergency roofing situation, the more likely it will be that you avoid significant damage to your home.
Insist on Insured Roofers
Selecting the right roofer is an essential part of roof repair. The first thing you should screen for when looking at contractors is the proper insurance. In general, roofing contractors should at least have general liability and workers' compensation insurance. Insurance will not only protect you from having to foot the bill if a work accident occurs on your property but in states like Kentucky, it's a legal requirement. The best way to verify that a roofing contractor has adequate and up to date coverage is by getting copies of their insurance certificates. Any professional roofing contractor will gladly provide you with copies on request.
Ask Friends and Family
Your friends and family will be helpful resources when you are looking for a reliable roofer. They are most likely to understand your specific roofing needs and make suggestions accordingly. But if you don't have anyone to ask Angie's List, Thumbtack and HomeAdvisor are also helpful online resources you can use to find a roofing contractor perfect for your specific project.
Get Multiple Estimates
Why sugarcoat it? Your budget will be a significant factor in your roofing contractor decision. But you shouldn't just go with the cheapest bidder. We highly recommend getting at least three estimates for any roofing project. That way, you can choose which contractor will fit into your budget and which ones you feel most comfortable with.
Ask for Warranties
Any good roofer will offer labor warranties on their work. Contracts protect you in case contractors mess up your roof repair job. It would help if you also asked the contractor what manufacturer warranties are available on the materials they will use for the job. Getting warranty information in writing and saving copies for yourself is essential for roof repair in Lexington, KY.
Contact your Insurance Provider
You may not have to foot the entire bill for your roof repair work. Your homeowner's insurance may cover the type of roof damage your home has incurred. It may sound surprising, but we have encountered many homeowners who forgot that they purchased roof insurance. That's why you must contact your insurance provider and ask them what your policy covers. Here at A Godsend Roofing, we provide roof insurance claims assistance for our customers to make the process easier.
Get References
Last but not least, you should always check references. Doing so will allow you to see how satisfied or dissatisfied past customers were and if the contractor you consider has to experience with your specific roofing problem. We recommend asking for at least three references from the contractors' most recent projects.
The Best Move you can Make
If you require roof repair in Lexington, KY, by far, the best decision you can make is to hire us here at A Godsend Roofing LLC. We are licensed, insured, and vastly experienced with roof repair of all kinds. Call us to get your roof in tip-top shape today.