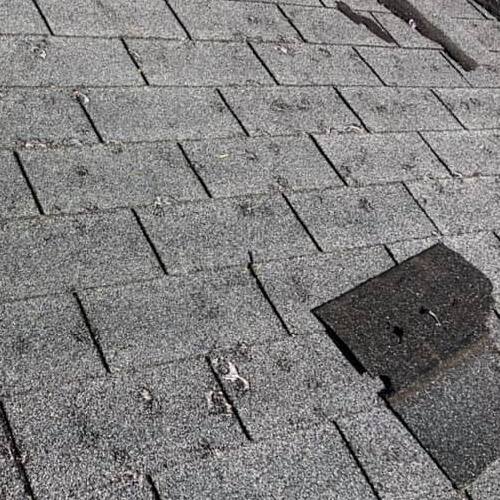 We'll Be There When You Need Us
If you've lived through a large storm, you know how devastating the weather can be. Storms have the potential to destroy property and displace homes. At A Godsend Roofing LLC, we're committed to helping property owners with roof storm damage repair quickly so life can return to normal. We're a local company, so we know what storms in the Lexington, KY area are capable of. If you're dealing with damage from a recent storm that's affected your roof, call (859) 270-9102 for assistance.
Expert Roof Storm Damage Repair Response
If you've been affected by bad weather and need roof storm damage repair in Lexington, KY, you want it done quickly. No one wants to put their life on hold while they wait for an appointment weeks down the road. We've spent more than 30 years at A Godsend Roofing LLC building a team capable of responding quickly when you call. Our technicians will get to you fast and inspect your roof before making recommendations on the best way forward. We consider your circumstances and make every repair solution customized to your budget, timeline, and property.
The effects of a large storm can be devastating. Damage to roofs can range from a few missing shingles to large holes, exposing your property to wind and rain. Storm damage isn't always the result of a large storm system. Often, roof damage is the result of years of rain and wind. If bad weather lasts a long time, it can shake shingles free and damage gutters. Leaks can spring up and water gets inside, causing property damage. Whatever conditions you're dealing with, our technicians have the experience to get your property back on track in no time.
Common Storm Damage Roof Repair
At A Godsend Roofing LLC, we deal with storm damage roof repair all the time. Here are some of the main weather-related causes of roof damage:
Wind Damage – If you live in a high wind area, your roof is going to take a beating. You're likely going to need more regular shingle repair and maintenance.
Precipitation Damage – Whether you're dealing with heavy rain or even hail, constant precipitation will eventually take a toll on your roof. Keeping your roof in top condition is very important because it keeps water from getting inside your property and damaging, wood, drywall, furniture, and whatever else is inside.
Falling Debris – When large storms hit, high winds can cause falling debris to collide with your roof. Debris can range from small branches to large objects like trees. We have the tools and training necessary to respond to any type of damage from falling debris.
Count on Us for Emergency Roof Storm Damage Repair
Responding quickly to emergency storm damage is critical to the long-term health of your roof. You never want to leave a roof damaged for too long, otherwise, you risk further damage to your property. At A Godsend Roofing LLC, we've built our team so we can respond quickly when you call for emergency help after a storm in Lexington, KY. We've dealt with the most severe storm conditions and are confident we can handle whatever damage you're facing. We can respond around the clock every day of the week to stop and fix roof leaks.
When our technicians arrive onsite for emergency repairs, they'll perform a quick inspection of your roof and assess the extent of the damage. Then, they'll get to work stopping leaks and fixing holes. Finally, they'll work with you on a plan to get your roof restored to whole. We approach every repair as your partner and will work with you to prevent disruption to your life. That means we can adapt to your schedule, so you don't have to miss a lot of work.
Schedule Services Today
A Godsend Roofing LLC is proud to offer the best roof storm damage repair in Lexington, KY. Our clients know they can count on us to be there in their times of need. Call us today at (859) 270-9102 to schedule an appointment for storm damage repair!
Hail Damage Roof Repair Learn how we respond to hail damage to keep your roof protected. We can be there fast to restore your roof.
Roof Insurance Claims Help We'll help make sure your claim is well documented to speed up the approval process. Get the compensation you deserve fast!
Roof Leak Repair Our team of experts can help you fix any roof leak, large or small. We'll get your roof back in great shape.